What is Kakeibo? It is an account book of your income and expenses for your household. In Japan, we call it Kakeibo.
There are many useful household account bookkeeping tools such as free apps and software, but the advantage of creating a household account book in Excel is the flexibility and detailed customization. This excel based tool Kakeibo is a simple, easy to use tool that allows you to enter data and click buttons, and you can also arrange the menu screen as you like.
In this article, you can learn about the features of Kakeibo Note, Light, and Pro.
There are three types of Kakeibo: Note, Light, and Pro. The basic functions and usage are all the same.
Kakeibo Note is a simple household budgeting tool. It is suitable for those who want to manage their household budget in simple and rough way with income and expense items. Kakeibo Light and Pro allow you to manage your budget and expenses by dividing them into categories. Kakeibo Pro has convenient payment management features such as credit card reconciliation and bank account debit inquiry. You can learn what these tools provide you as below.
Customize the menu screen
You can customize the initial main menu area by entering memos, inserting images, creating graphs, etc. in the blank area to the right. You can also create a calendar and use it to manage your schedule by entering your events as below.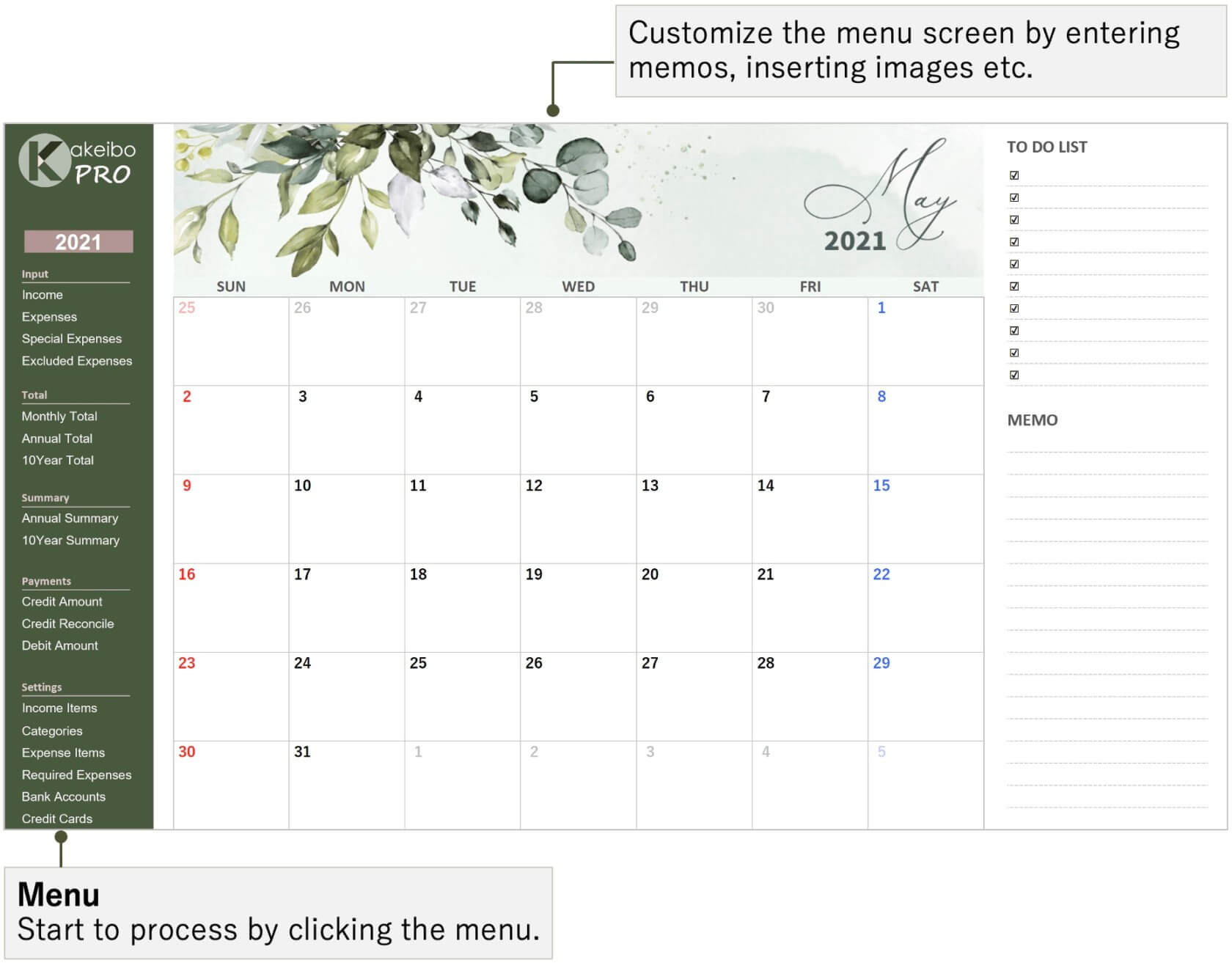 Easy input data
You can enter data into the income and expense sheets. You can select an income or expense item from a list, and save a lot of time and work by using Excel's input functions such as copy and paste. You can easily add, delete and sort data by just clicking a button.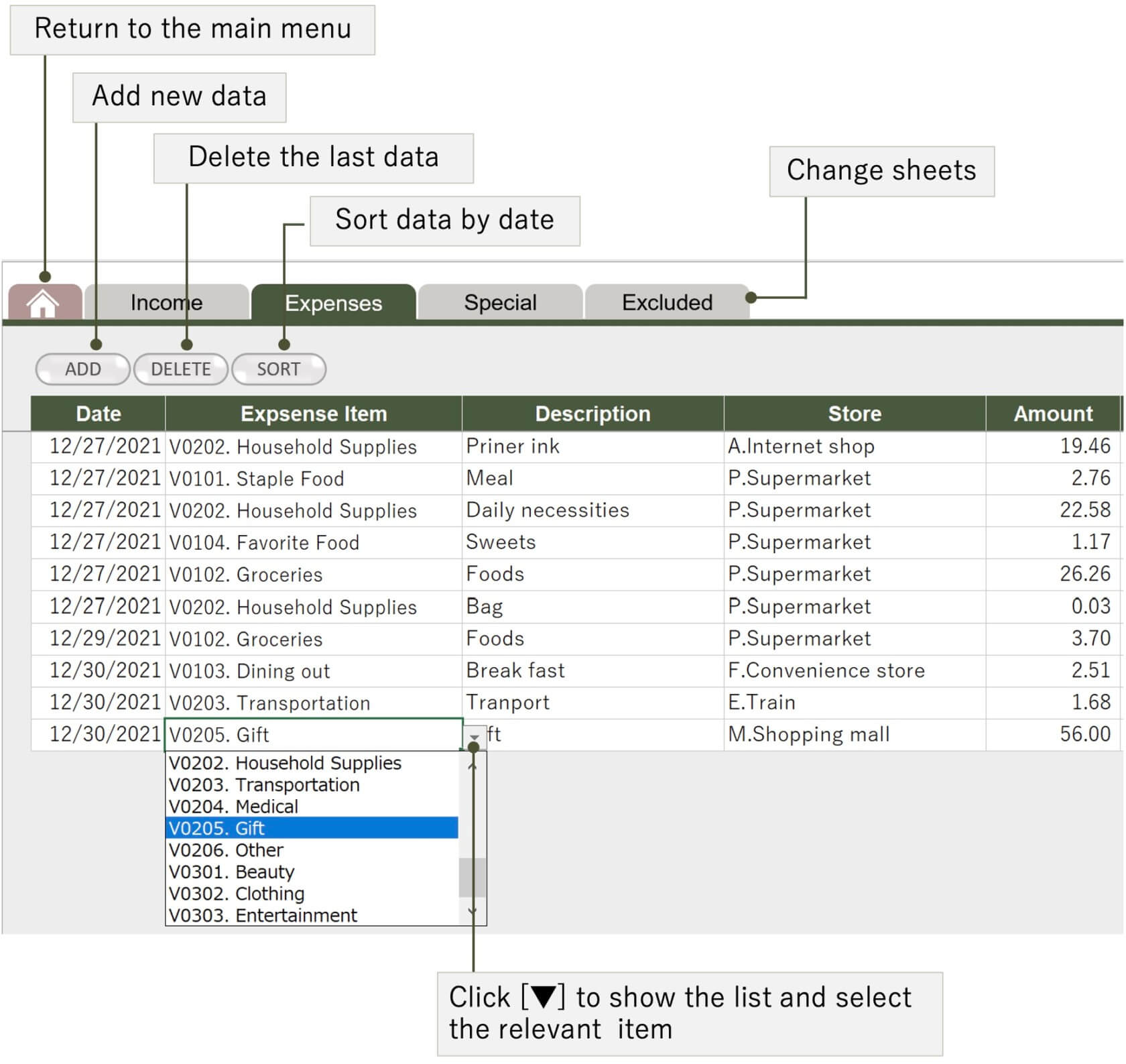 These tools have four sheets: Income, Expenses, Special Expenses, Excluded Expenses. You can enter non-daily expenses such as travel, housing and car purchases in the Special Expenses sheet, expenses that you don't want to tally up in the monthly or annual totals in the Excluded Expenses sheet.
Set items for your lifestyle
These tools allow you to set up your income and expense items as you like. You can manage your household budget in a rough or detailed manner. Kakiebo Light and Pro allow you to divide your expenses into categories.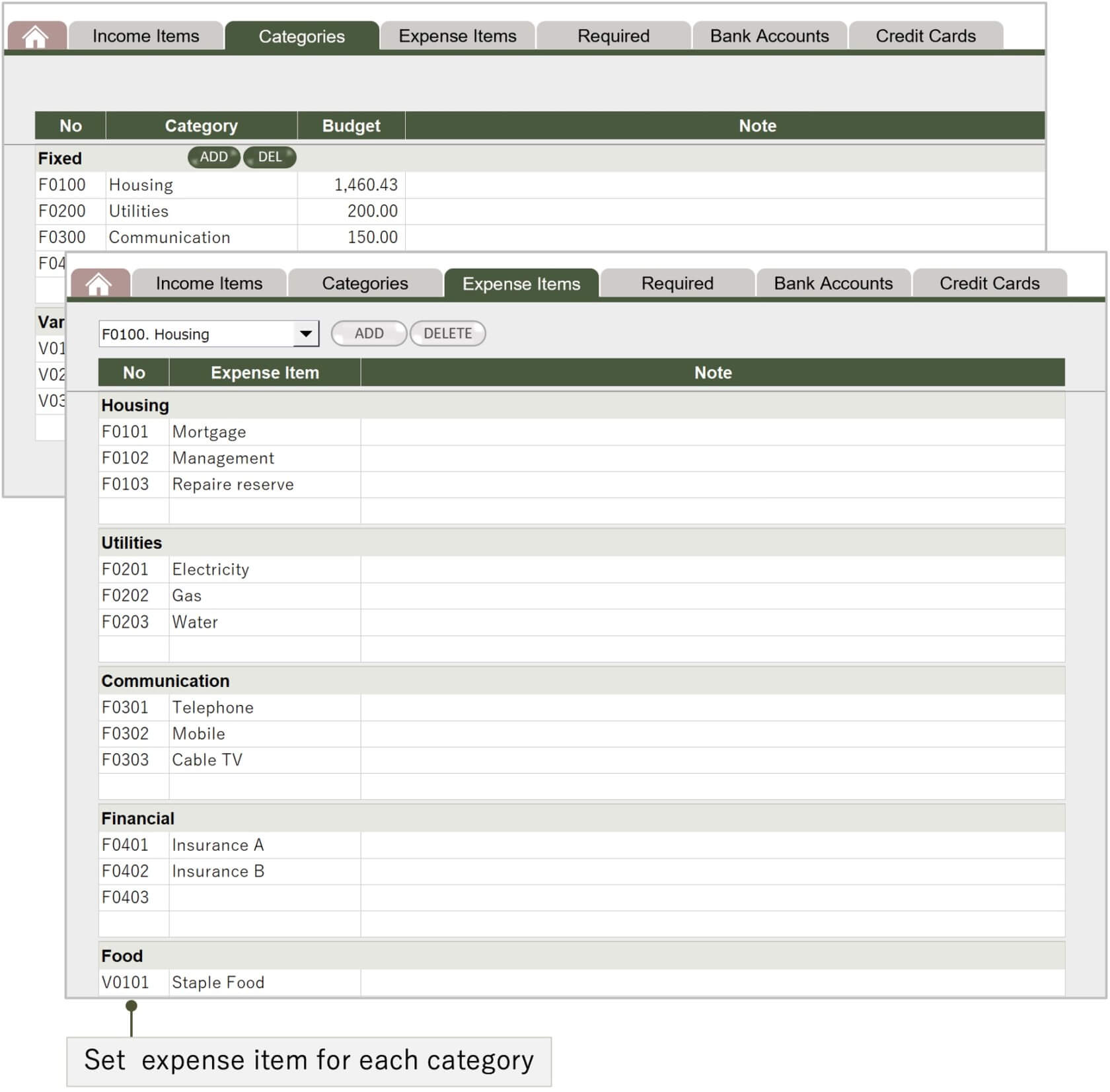 Automatic Posting
You can post monthly expenses such as utility bills and subscriptions to the expenses sheet by clicking a button. You can modify the date, amount, and other data on the posted details in the expenses sheet. This feature helps you to save a lot of time and work for inputting your regular payments.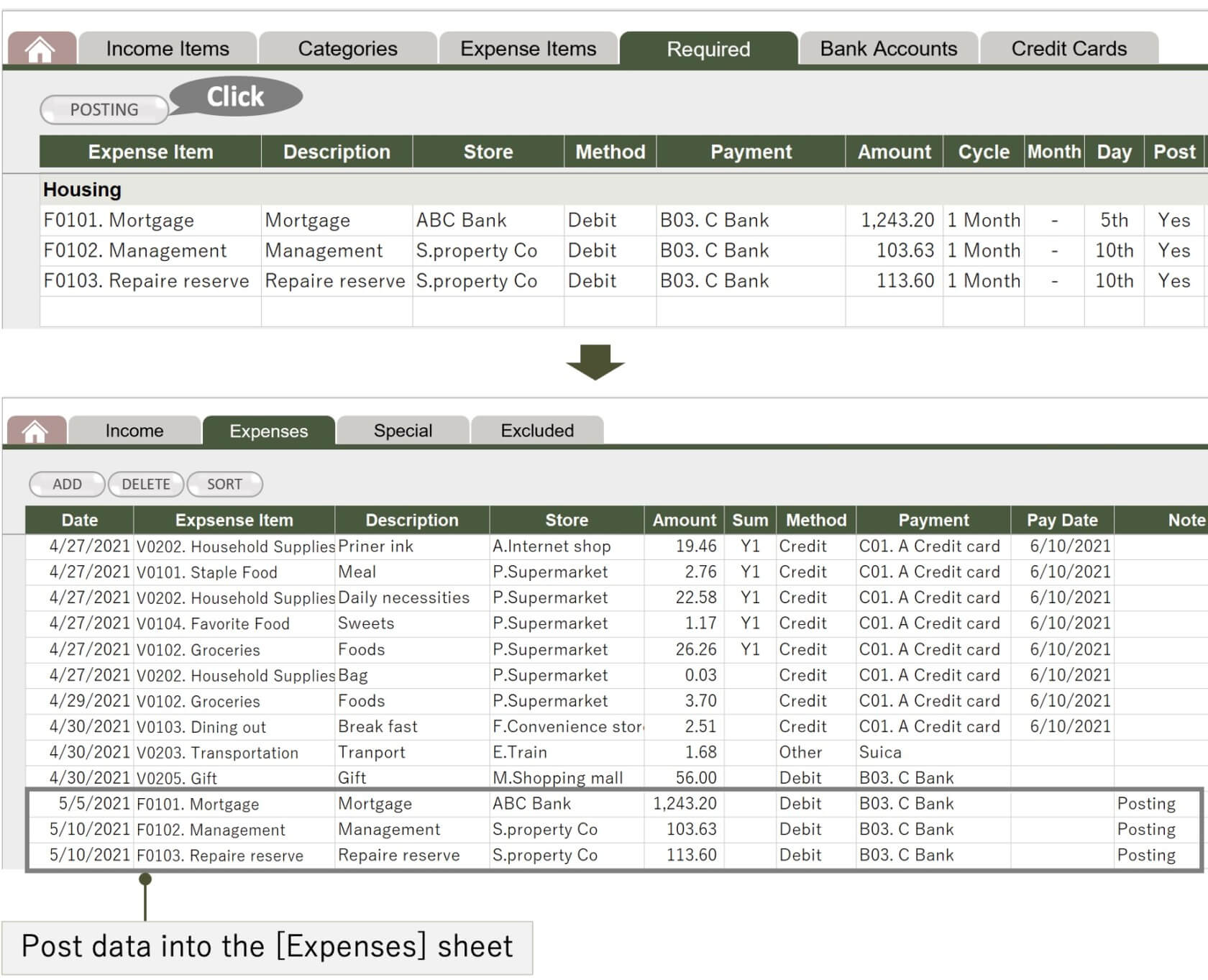 Budget Management
You can manage your spending budget on a monthly basis. This sheet provides you with a detail side-by-side comparison of your projected monthly budget vs. your actual expenses. It provides you with a quick and easy way to identify where you may be overspending.
With Kakeibo Light and Pro, you can set your budget for each category, and with Kakeibo Note, you can set your budget for each expense item. This sheet allows you to set a year and month and compare it with this month's income and expenses. It helps you to analyze your household budget.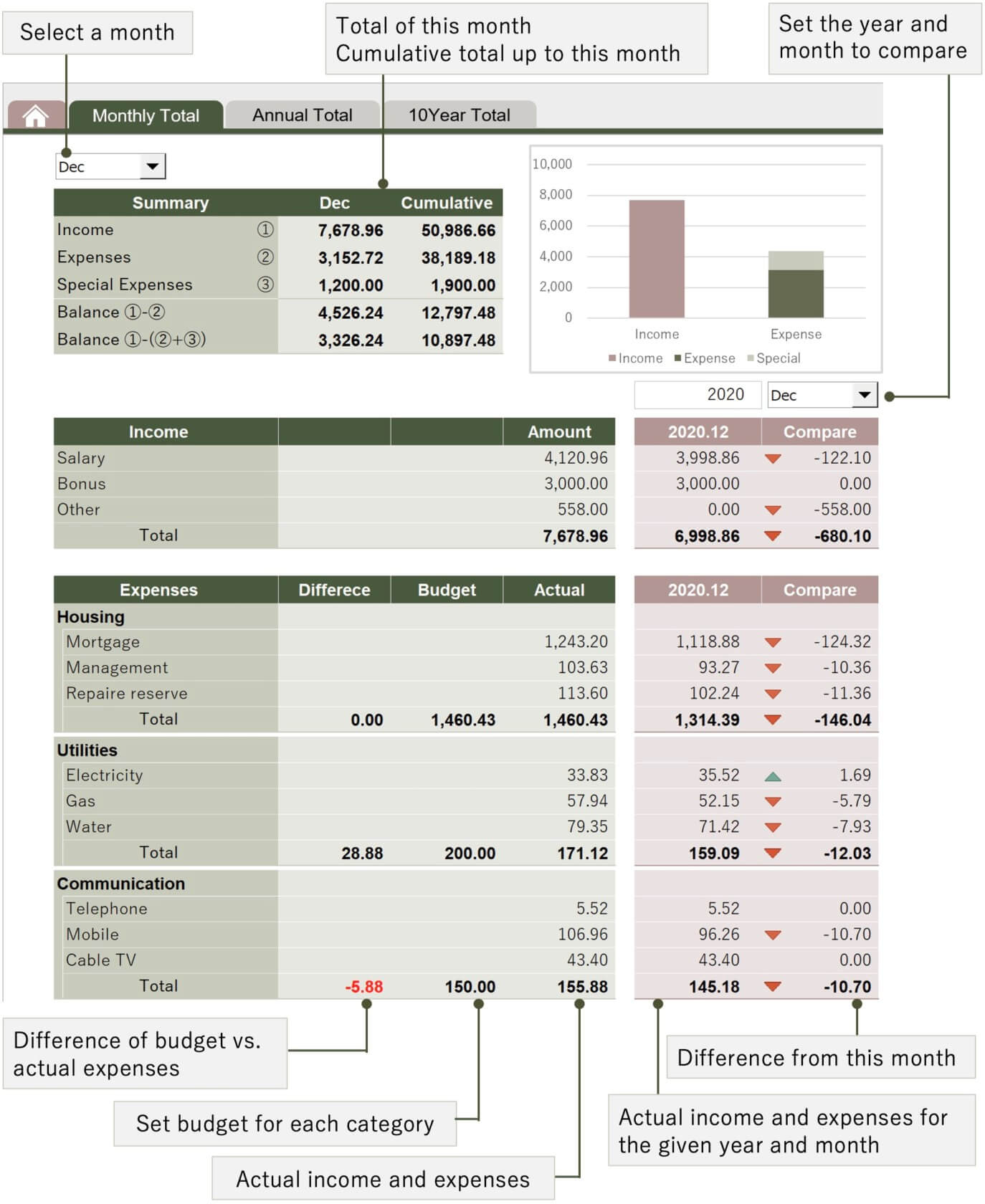 Total of income and expenses
The detailed data that you enter will be aggregated by item and you can check with the monthly, annual, and 10-year total sheets.
You can also check your income, expenses, special expenditure, and balances in the annual and 10-year summary sheets, which are summarized in tables and graphs. Income, expenses, and special expenditure are displayed as bar graphs, and balances as line graphs. This is a helpful way to keep track of your finances at a glance.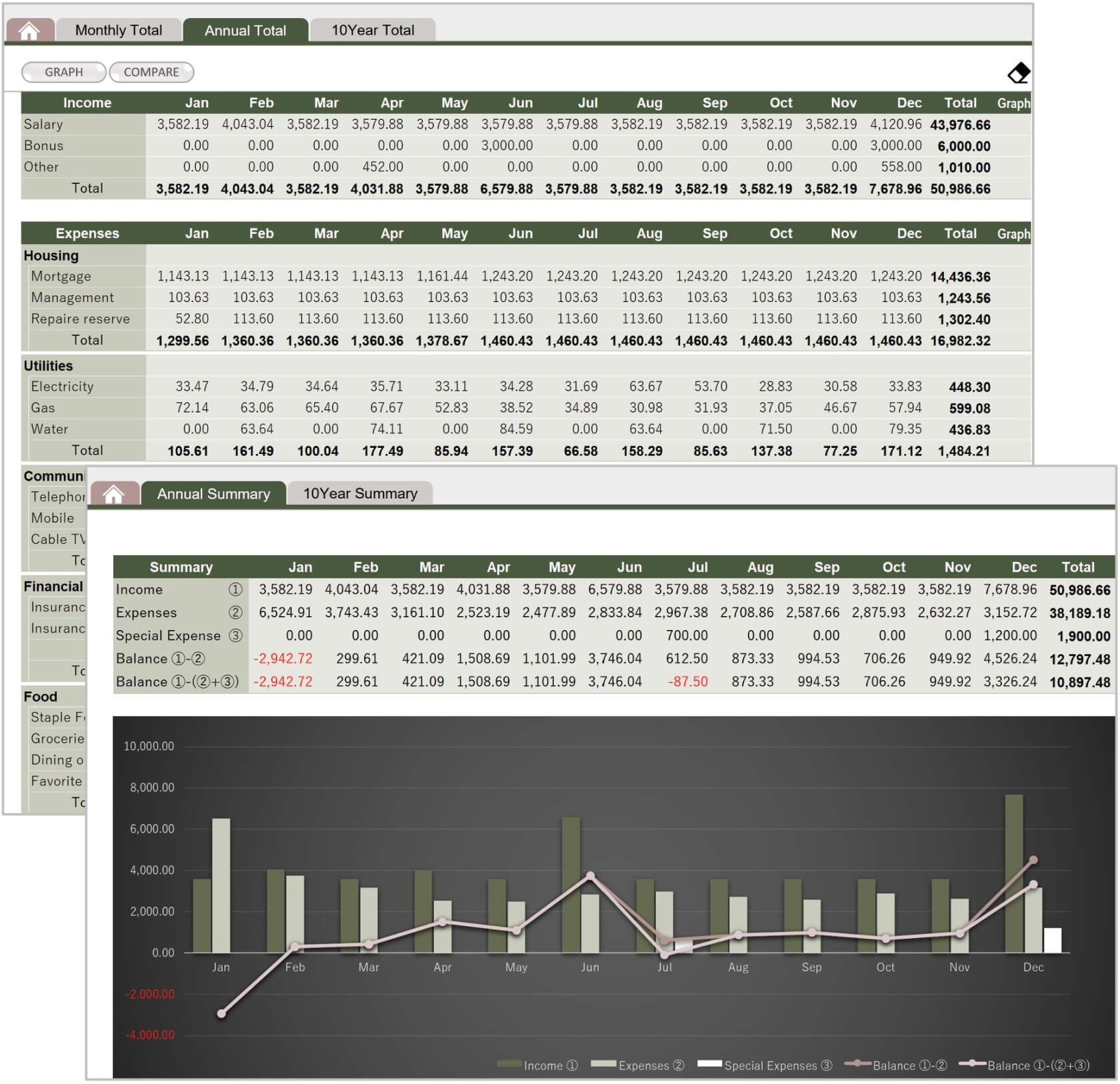 Analyze your household with graphs
You can view the aggregated data in graphs. This is useful for analyzing your household budget, making it easy to find trends and problems.
You can select up to four income or expense items and view the annual trend in bar and line graphs. It is useful to understand how each item is changing. You can also view an annual basis trend for 10 years.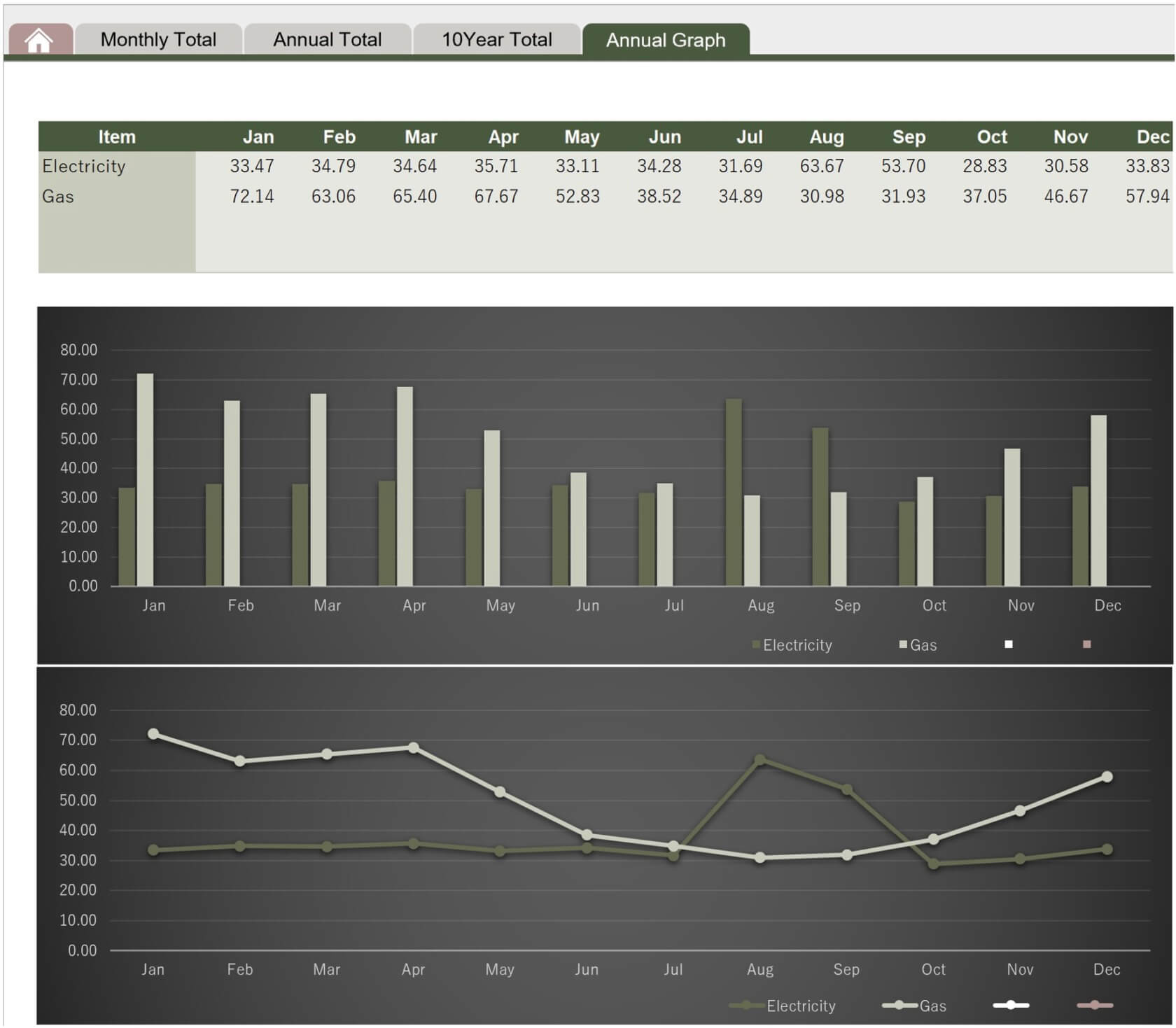 It displays the annual transition of one item in bar and line graphs. You can view and compare the annual trends for up to four years in graphs.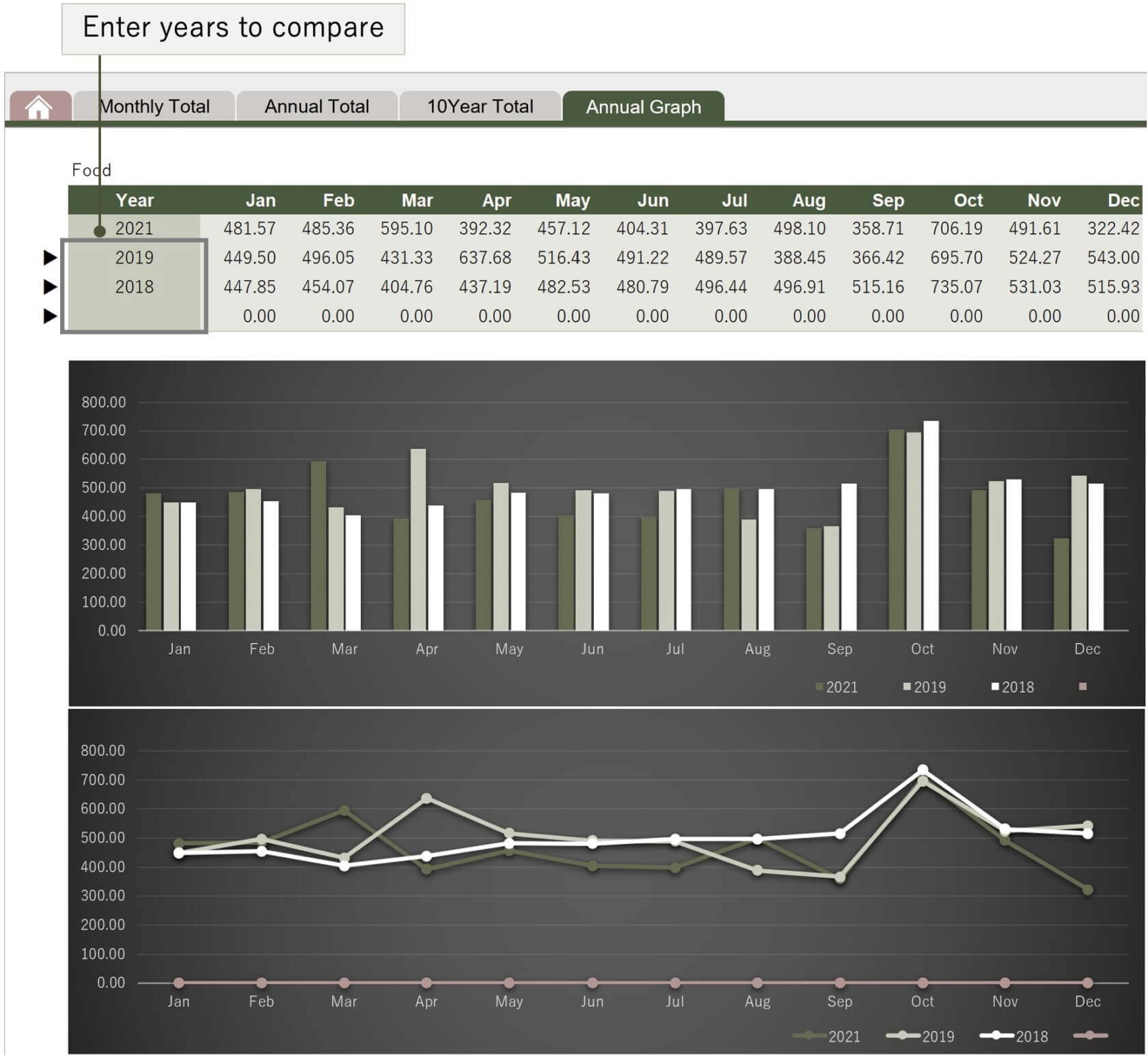 Reconcile credit card payments (Pro)
It lists the credit card payment data you have entered in the sheets for your expenses and checks if it matches the amount charged by the credit card company. You can also reconcile the data against the credit card company's statement one by one.
By reconciling the data, you can check for input omissions and unauthorized use of your credit card.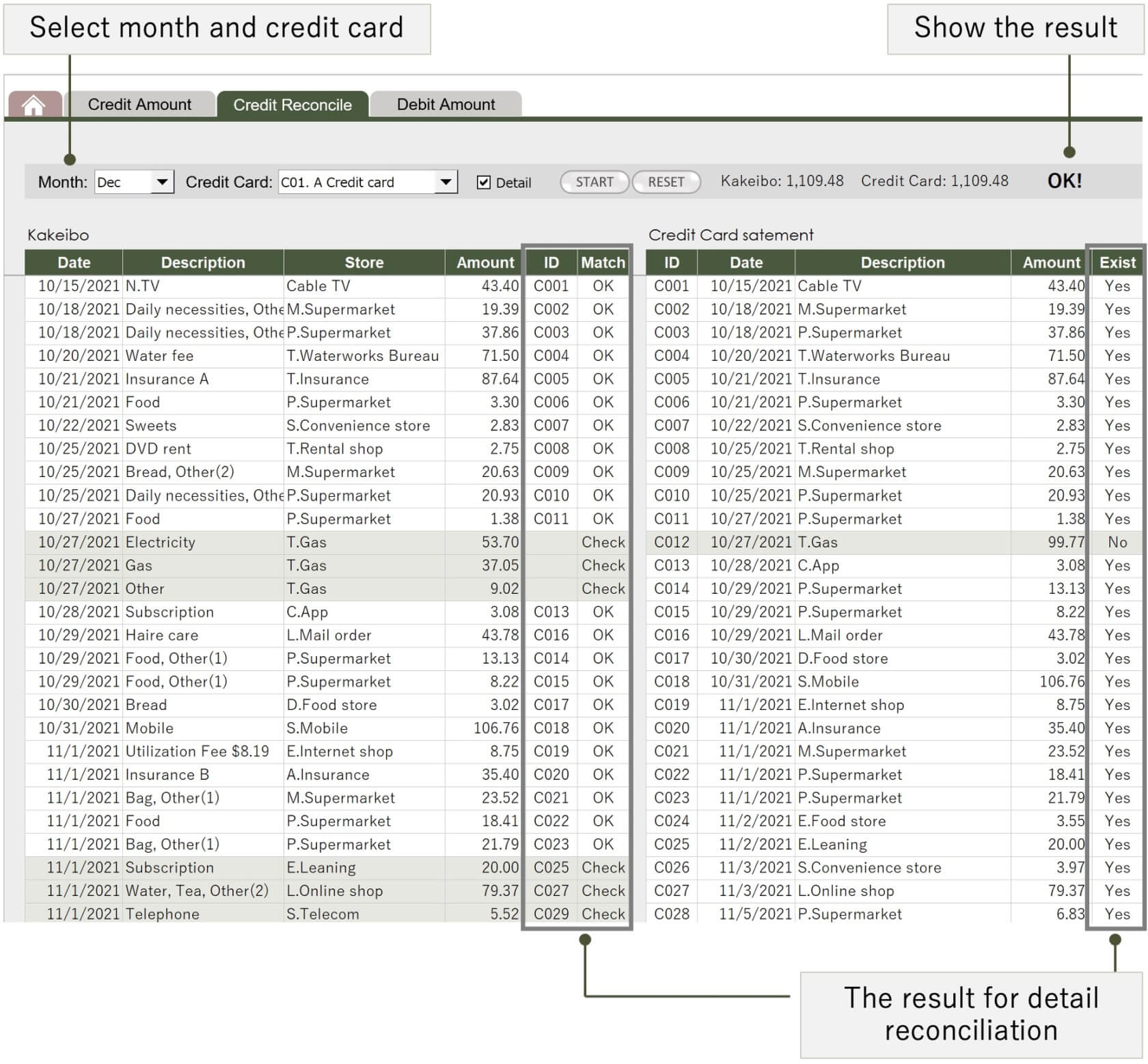 Bank account debit inquiry (Pro)
It tallies up the amount of money that is automatically debited from your bank account and the amount of Debit payments, and displays the details and total amount on the screen. It is useful to know how much money is debited from your bank account in a month.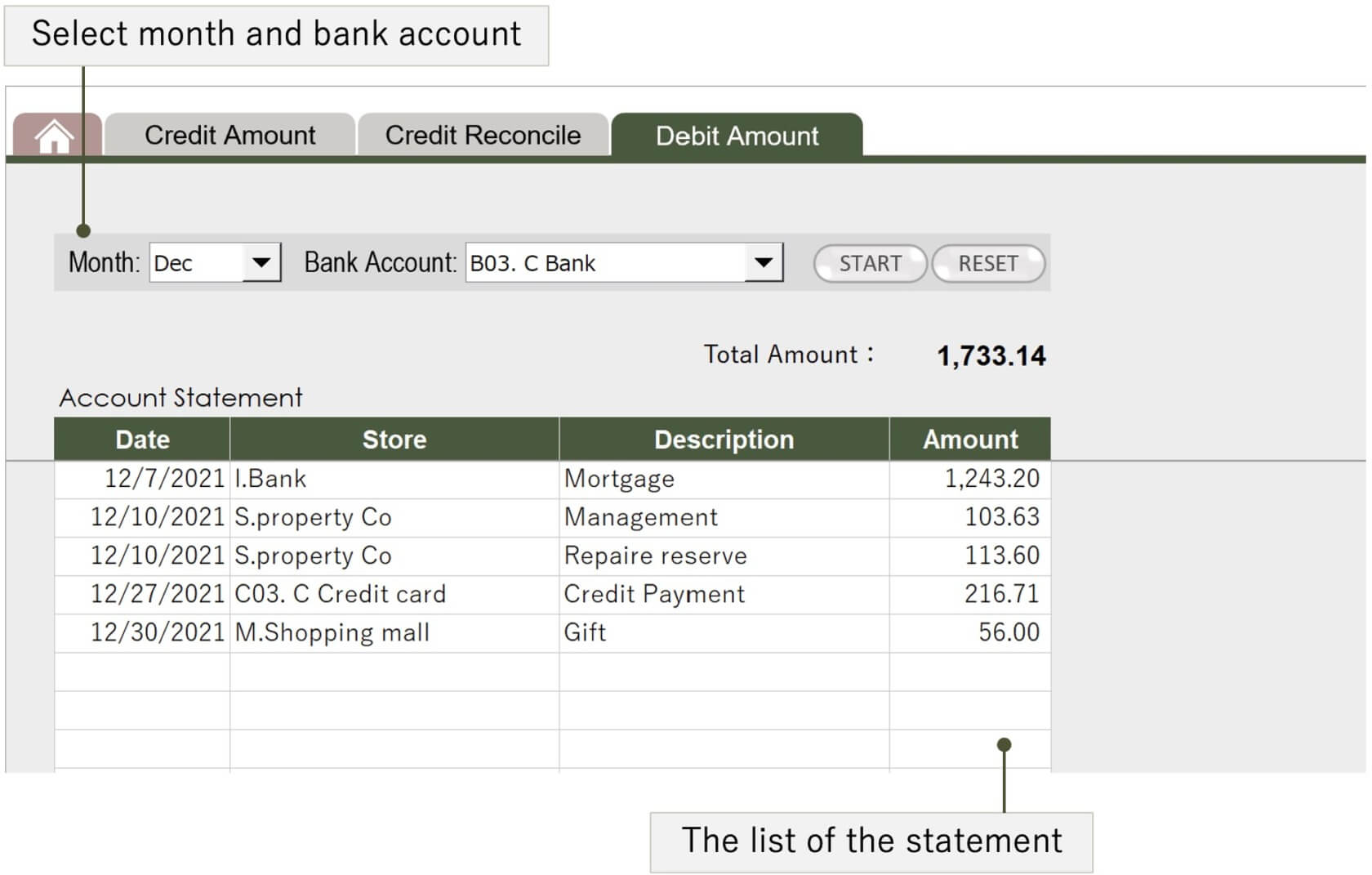 Others
Set items freely
The sheets for inputting your income and expenditure data have two items that you can freely set up. For example, you can set up an item Tax Return and enter a check mark for the details that are subject to the tax return, and then extract the subject data when filing a tax return.
The filter function
By using the filter function of Excel, you can extract data that matches specific conditions.
Make a graph
The Excel graphing function allows you to create a variety of graphs based on the aggregated data. You can analyze your own household budget.
Ⅱ
Ⅱ. The difference between Note, Light and Pro
The following table is a summary of the specifications of Kakeibo Note, Light and Pro.
Note
Light
Pro
Function
Input
Income
✔︎
✔︎
✔︎
Expenses
✔︎
✔︎
✔︎
Special Expenses
✔︎
✔︎
✔︎
Excluded Expenses
✔︎
✔︎
✔︎
Total
Monthly Total
✔︎
✔︎
✔︎
Annual Total
✔︎
✔︎
✔︎
10 Year Total
✔︎
✔︎
✔︎
Summary
Annual Summary
✔︎
✔︎
✔︎
10 Year Summary
✔︎
✔︎
✔︎
Payments
Credit Amount
✔︎
Credit Reconcile
✔︎
Debit Amount
✔︎
Settings
Income Items
✔︎
✔︎
✔︎
Expense Categories
✔︎
✔︎
Expense Items
✔︎
✔︎
✔︎
Required Expenses
✔︎
✔︎
✔︎
Bank Accounts
✔︎
✔︎
✔︎
Credit Cards
✔︎
✔︎
✔︎
OS
Windows
✔︎
✔︎
✔︎
Mac
✔︎
✔︎
Kakeibo Note and Light can be used on both Windows and Mac. Kakeibo Pro has two functions: Credit Card Reconciliation, which allows you to reconcile the amount of credit card payment you entered in the expense sheets with the amount charged by a credit card company, and Bank Account Debit Inquiry, which allows you to tally up the amount of automatic debit and debit payment from your bank account.
These functions use ADO (ActiveX Data Object) to process data in Excel as a database. Excel for Mac does not support ADO, so Kakeibo Pro is designed for use on Windows.
Ⅲ
Ⅲ. Basic Specifications
The basic specifications for the items and data input of these tools are as follows.
| | Note | Light | Pro |
| --- | --- | --- | --- |
| Income Items | 99 items | 99 items | 99 items |
| Expense Categories | – | 99 items | 99 items |
| Expense Items (*1) | 99 items | 99 items | 99 items |
| Bank Accounts | 99 items | 99 items | 99 items |
| Credit Cards | 99 items | 99 items | 99 items |
| Dues/Subscriptions | Maximum Rows | Maximum Rows | Maximum Rows |
| Income Data | Maximum Rows | Maximum Rows | Maximum Rows |
| Expense Data | Maximum Rows | Maximum Rows | Maximum Rows |
| Credit payment Data | – | – | Maximum Rows |
(*1) For Kakeibo Light and Pro, the number of expenditure items in one category.
The maximum number of rows in Excel is 1,048,576.
There is no limit to the number of characters for data entry, such as items and notes, or the number of digits for amounts.
Ⅳ
Ⅳ. What you need to check
The system requirements
The system requirements to use these tools are below.
Note
Light
Pro
OS
Windows10 (64-bit)
✔︎
✔︎
✔︎
Mac OS (64-bit)
✔︎
✔︎
Application
Microsoft Excel 2019 (64-bit)
✔︎
✔︎
✔︎
Device
PC
✔︎
✔︎
✔︎
You can find out whether you are using 32-bit or 64-bit Windows and Excel in the following article.
Excel version for using the tools
These tools are created with Office365, which is the latest version of Excel, and I recommend using Microsoft Excel 2019. I can't guarantee that it will work properly with earlier versions.
Available Devices
The macro feature is not supported on Office Mobile. These tools use the macro function, and when you use them with Excel for mobile, it will not work even if you click on a button. These tools can be used on a PC.
Macro-Enabled Workbook
If you are working with multiple Macro-Enabled Workbooks (extension .xlsm) open, you may have problems and the books may not work properly. Please refer to the following link for the solution to the error.
When using the tool, please do not have any other Macro-Enabled Workbooks open. You can also have an Excel book (.xlsx extension) open, but it is recommended that you close any files that you do not need.
Ⅴ
Ⅴ. Purchase these products
Online Stores
You can buy these products from the following online stores. Once you have done so, you will be able to download the product.
For more information about Etsy and Base, please click here.
Products(Download version)
Kakeibo Note :¥2,000
Kakeibo Ligte:¥2,800
Kakeibo Pro : ¥3,500
The following user guides provide you detailed information on how to use these tools.
User Guide – Settings
User Guide – Input Income & Expenses
User Guide – Total
User Guide – Payment
–
When you actually use it, you may find that there are things you don't understand or have questions about. This blog also has email support. I do my best to respond to questions and inquiries from my customers within two business days, but please understand that it may take longer to reply if I receive many inquiries.